Par Feerik, le
Strict Standards: Non-static method dt::str() should not be called statically, assuming $this from incompatible context in /home/eredan/blogde/inc/classes/class.blogpost.php on line 113

Strict Standards: Non-static method dt::_callback() should not be called statically in /home/eredan/blogde/inc/libs/lib.date.php on line 35

Strict Standards: Non-static method dt::_callback() should not be called statically in /home/eredan/blogde/inc/libs/lib.date.php on line 35

Strict Standards: Non-static method dt::_callback() should not be called statically in /home/eredan/blogde/inc/libs/lib.date.php on line 35
Freitag 30 November 2012 - iTCG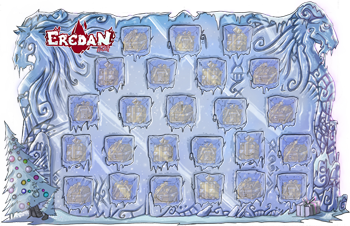 Ein neues Weihnachtsfest wird bald in der Welt von Eredan iTCG und so sehen wir auch die Rückkehr des inzwischen traditionellen Adventskalenders.
Bei jedem ersten Login des Tages, wird der Adventskalender erscheinen. Wenn ihr auf das Datum des Tages klickt, erhaltet ihr ein Geschenk und wie bereits in den Vorjahren hat euch das Eredan iTCG Team was ganz tolles vorbereitet!
Wie im Vorjahr erhalten diejenigen, die alle Türchen geöffnet haben am 24. Dezember eine Trophäe und eine besondere Belohnung.
NB: Wenn ihr einen Tag verpasst, könnt ihr das Türchen für 15 Fee'z im Nachhinein noch öffnen und das Geschenk erhalten. So seid ihr noch immer im Rennen für die Trophäe des Kalenders. Der Kalender ist bis einschliesslich 31. Dezember verfügbar.
Wir sehen uns also am 1. Dezember um 00h00 (MEZ) für euer erstes Geschenk!
Einige haben es sicher schon erraten, Amnezy hat auf ihrer Facebook Seite schliesslich auch eine Menge ausgeplaudert über die neue Gilde auf Eredan iTCG : Die Steinbinder. Diese Charaktere sind abenteuerlustige Händler und Spezialisten der Elementarmagie und verfügen über ein umfangreiches Wissen über die Stein-Herzen.
Ihr kennt Temüjin bereits, den Sammler-Charakter, der im Eredan ITCG Artbook erhältlich ist. Entdeckt nun diesen Dezember noch weitere Charaktere dieser Gilde.
NB: Achtung, Die Charaktere "Wasserelementar" und "Erdelementar" werden nun den Steinbindern zugezählt. Nicht-Steinbinder Decks, die mindestens einen dieser Charaktere beinhalteten sind inzwischen ungültig. Ausserdem haben wir die neue Unterkategorie Gegenstand Schmuck Stein-Herz hinzugefügt, in welcher nun die Karten Schwarzes Stein-Herz, Nehantisches Stein-Herz und Stein-Herz eingeordnet sind.
Die grosse Lotterie!
Das Eredan-Team bietet euch eine Vielzahl Gewinne, darunter auch brandneue, für die grosse Lotterie! Insgesamt werden nicht weniger als 50 Preise verlost. Hier ist die Liste:
- 1 Pack "Alle Januar-Karten": Nein, das ist kein Übersetzungsfehler, einer von euch wird tatsächlich ein Exemplar von allen Karten gewinnen, die im Januar erscheinen werden! (Die Charaktere nur auf Level 1 und Ereignis- und Eventkarten ausgenommen).

- 1 Pack "Steinbinder": Dieser Pack beinhalet zwei Exemplare von 2 Charakteren (Catalyna, Meister Maen), 1 Luftelementar, 1 Feuerelementar, 1 Erdelementar, 1 Wasserelementar, 1 Harpune des Kummers, 1 Schotter und 3 Exemplare von jeder Steinbinder Karte. Also 26 Karten (Temüjin ist in diesem Pack nicht inbegriffen).

- 3 Packs "Alle Sammlerversionen": Dieser Pack beinhaltet die Sammlerversionen der folgenden Karten. Anathem, Mord, Das Eisen schmieden, Den Geist brechen, Zeremoniell, Nötigung, Einfrierung, Regentanz, Verwurzeln, Teamgeist, Lass das Pulver sprechen!, Inspiration des Nehant, Mit den Gefühlen spielen, Mentalismus, Übergewicht, Auf Reisen gehen, Perversion, Ruhe, Versorgung, Triumph, Strahlender Sieg.

- 10 vom Team signierte Ex-Libris.
- 10 Packs von je 10 200XP Karten.
- 10 Packs von je 20000 Kristallen.
- 15 Neuerscheinungen Booster.
Wie nehme ich teil?
Um eine Chance auf einen der zahlreichen Preise zu haben, braucht ihr Lotterie-Tickets. Ihr findet davon:
- 1 hinter jedem Türchen des Adventskalenders.
- 1 in den Basic Boostern.
- 3 in den Neuerscheinungen Boostern.
- 6 in den Ready2play Decks (für Fee'z erhältliche Decks).
Die Lotterie endet am 31. Dezember um 12H00 (MEZ), die Gewiner werden am 2. Januar 2013 ausgelost und bekanntgegeben!
NB: Die Lotterie-Tickets für die "Artbook" Auslosung, zählen nicht für diese neue Lotterie.
Wir wünschen euch allen viel Glück und einen wundervollen Dezember auf Eredan iTCG!
Eredan iTCG
, das Sammelkartenspiel.
Auch auf
Facebook!